How to lubricate an electric drill?
Views:0 Author:Site Editor Publish Time: 2021-03-02 Origin:Site
Almost all tools or machines you use need to be oiled at some point. When metal comes into contact with other metal surfaces, wood, plastic, and almost all other objects, they will chip and become dull over time. The same goes for makute electric drills. How to lubricate makute electric drill?

This passage is going to talk about the followings of lubricate an electric drill:
(1)How to lubricate an electric drill?
(2)Other precautions for maintain your electric drill
(3)Importance to lubricate an electric drill
(1)How to lubricate an electric drill?
In order to oil the drill bit, you need to use some standard metal oil. You can buy them in hardware stores and some auto shops. Once you have it, follow the simple steps below.
Keep the chuck open. The chuck is the part of the bit where the bit is when you use it. Slide a few drops of engine oil into the chuck without any debris inside. Open and close five times to apply lubricant evenly.
Wipe off excess oil with a soft cloth. Too much lubricant can cause debris to stick to the inside of the chuck and cause blockage. Accumulation is as bad as not using lubricant.
Continue to replace the drill bit and operate the makute electric drill for about 20 to 30 seconds to make the drill bit move completely. No matter what project you are working on, you can use the walkthrough immediately.
Lubricating the drill is not complicated at all. In fact, you can execute it every two weeks, and each application takes less than a minute.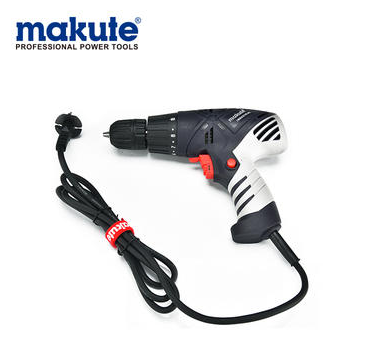 (2)Other precautions for maintain your electric drill
Is it enough just to lubricate? Of course not. When moisture comes into contact with metal, rust and corrosion will form. It is needless to say that they are very scary for your makute electric drill.
Just like humidity, maintaining temperature is a key factor in extending the life of a drill bit. Room temperature is a good starting point (72 degrees Fahrenheit), but you can go as low as 62 degrees or as high as 82 degrees before experiencing any complications. When the drill bit becomes too cold or too hot, the internal parts begin to wear faster.
Another suggestion is to keep your tools separate from each other.
Having a specific location on each part can be challenging, but doing so can prevent scratches and bends that you might not know. When drill bits are placed side by side with other tools, it is easy to scratch them.
If you are still worried about all of this, please feel free to get some storage boxes to protect drill bits and other tools from harm.
Since the storage box is sealed, you can keep most of the moisture out. You can also insulate them by adding towels to remove oil and debris.
(3)Importance to lubricate an electric drill
It can be seen that the maintenance of the chainsaw is the key. Implementing routine maintenance routines is the best way to prevent problems with power tools. Simple dust removal can remove dirt and particles, otherwise these dirt and particles may accumulate in your gear or start to corrode your electrical system. Keeping the chainsaw clean, cool and effective oiling is the sure way to get the most from it.
In order to make all the moving parts on the makute electric drill work normally, it must be lubricated. You can follow the manufacturer's instructions to properly lubricate the specific tool model and which lubricant to use. Keeping makute electric tools well lubricated can prevent parts from scratching, heating and corrosion. We hope the passage can help. Makute power tools will provide you with the best service. If you have any needs, please contact us.