How to use an angle grinder to cut metal?
Views:0 Author:Site Editor Publish Time: 2021-02-09 Origin:Site
In the ocean of many hand-held tools, the angle grinder seems to be the most universal tool that every skilled operator seems to love. That's why it's really not surprising that this particular tool has been successfully used in many areas, including the automotive industry, plumbing, woodworking, and many others. How to use an makute angle grinder to cut metal? A very common question is: "Can we use an makute angle grinder to cut metal?" The answer is absolutely. In fact, makute angle grinder is mainly designed for the renovation and polishing of metals and other materials. As long as you are equipped with the correct metal cutting disc, it can cut metal without any effort.

This passage is going to talk about the followings of using an angle grinder to cut metal:
(1)Why is an angle grinder an ideal tool for cutting metals?
(2)How to cut metal with an angle grinder?
(3)Note on cutting metal with angle grinder
(1)Why is an angle grinder an ideal tool for cutting metals?
Makute Angle grinders have many advantages, and there are a variety of options and assembly accessories, which is convenient for everyone to enter into different operations.
Steel bars, angle irons, sheet metal parts and everything else can be cut easily with the correct blade. Angle grinders are one of the most popular products in the relevant market. There are many different variations of angle grinders. They come in different sizes, with or without wires. Personally, so far, in our opinion, using a cordless grinder is a better choice. Cordless variants of power tools not only provide enough power, but also have a wide range of uses. A high-quality angle grinder also includes a rotating washer, a comfortable handle, and a protective blade or disk cover, which greatly reduces the risk of cutting metal.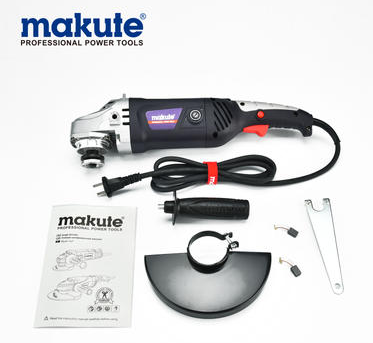 (2)How to cut metal with an angle grinder?
Having established the concept of an angle grinder, it is time to move on and see what is the best way to shred metal with a makute grinder.
First, you should make sure you have all the tools needed for this process. In addition to the angle grinder, it also includes a power supply and a long cable (unless it is a wireless model), as well as earmuffs, safety goggles, C-clamps and appropriate metal cut-offs. Last but not least, you should prepare the metal to be cut, set and prepared.
After all the tools are set up and ready, you can prepare the angle grinder for cutting. This is done by installing the appropriate metal cut-off disk and placing the spindle nut in the correct position.
Also, unless the angle grinder you are using is wireless, it's time to plug it in. The next step is to fix the metal and mark the incision with a permanent marker. Once completed, you can start the process. Hold the angle grinder with both hands and begin precise cutting. Follow the line you marked earlier and control the backlash to ensure a light and smooth cut.
If you need to change the direction, you should be very careful not to move violently or suddenly. In this way, you can protect yourself from injury and ensure precise cutting. After finishing, check for any rough edges, then use fins to correct it.
We personally recommend that you complete all cutting work. Stopping halfway through the operation can only increase the chance of inaccurate and unsightly cuts. Patience is a virtue when you use a grinder to process thicker metal or steel materials.
(3)Note on cutting metal with angle grinder:
Add some things to be aware of when cutting metal with an makute angle grinder.
1. The grinding wheel must be rotated outward to ensure that the cutting metal slag flies out;
2. When the grinding wheel is cutting, there should be no too much pressure, nor can it be cut for a long time, there must be time for heat dissipation;
3. Can't do curve cutting to prevent chipping.
In conclusion, we must suggest that the process is not always the same because the functions of the various makute angle grinder models are different. This article is only a brief introduction to some of the makute angle grinder cutting metal methods. The specific situation needs your specific analysis.