Makute Angle grinders are multifunctional tools that can grind metals and cut tiles, plaster and spreaders, grind mortar, and in addition can sand, polish and sharpen. Makute Angle grinders can be used to remove excess material from the workpiece. There are many different kinds of discs for various materials and tasks, such as cutting discs (diamond saw blades), grinding discs, grinding stones, abrasive discs, wire brush wheels and polishing pads. Do you know how to use an makute angle grinder?

This passage is going to talk about the followings of using an angle grinder:
(1)Why buy an angle grinder?
(2)Operating rules of angle grinder
(3)Safety of the angle grinder
(1)Why buy an angle grinder?
The angle grinder is versatile and easy to use, and has a wide range of applications, which can be processed in various materials. It's easy to get started, and you can use it with a little attention to protection.
It is the most versatile tool in the box and should be an essential tool in any shed or workshop, but we are not just because they can perfectly match with many of our abrasives! An angle grinder with a suitable disc can replace many tools, making the most tedious and labor-intensive work faster and easier. Even better, they are easy to control, and any novice with the correct safety precautions can pick up the angle grinder and start working.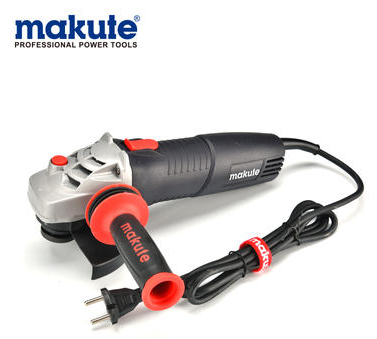 (2)Operating rules of angle grinder
Angle grinder is an abrasive tool used for cutting and grinding. Portable multi-purpose angle grinder, suitable for deburring and polishing. Here are some operating regulations need to be paid attention to:
1. Working with protective goggles.
2. After turning on the switch, wait for 3 to 5 minutes and observe that the grinding wheel rotates stably before working.
3. Employees with long hair must tie up their hair first.
4. The cutting direction cannot be towards people.
5. After working continuously for half an hour, stop for 15 minutes.
6. Do not hold small parts with your hands to process the angle grinder.
7. Consciously clean the working environment after the work is completed.
The specific brands and models of angle grinders are different, please check the manual of the angle grinder before operation.
(3)Safety of the angle grinder
Unlike drilling motors that run at about 700 to 1200 rpm, the grinder rotates at an amazing speed of 10,000 to 11,000 rpm. Their speed is scary enough! Please follow the following precautions to ensure safe use of the makute grinder:
Put on a mask and gloves.
When replacing wheels, unplug the power supply of the grinder.
Hold the handle and hold it firmly with both hands.
Use protective covers whenever possible.
Before using new wheels, please run in the protected area for one minute to ensure that the wheels are not damaged.
Adjust the working direction to make the debris downward.
Stay away from bystanders. Everyone nearby should wear safety glasses.
Adjust the working direction so that the grinding wheel rotates away from the sharp edge. Grinding wheels, especially wire grinding wheels, may jam the edges and throw the workpiece or cause the grinder to retreat.
Keep sparks away from flammable materials.
Clamp or fix the workpiece in some way.
Store the angle grinder out of the reach of children.
In short, remember to take protective measures before using makute angle grinder to ensure that the materials you need to perform the grinder work and the rated speed of the grinder match, and the angle grinder is placed correctly and pay attention to the risk of sparks. Experienced you also need to be vigilant about makute grinder operations. To learn more about makute angle grinders, you can view more on our website.